"Calling her a cabaret singer is like calling Pablo Picasso a painter; it's true all right, but it leaves a lot out!" Philadelphia Inquirer
"Like drum rolls and colored lights, Marilyn Maye is pure Show Biz, electrifying the room when she steps on the stage. She comes from a time when cabaret's were nightclubs and the vibe was entertainment. This magical musician has many moods - - she is a treat, a bonanza. She's entertainment!!!" Elizabeth Ahlfors, Birdland, September 2014
Biography
Marilyn Maye is a highly praised singer, actress, director, arranger, educator, a Grammy nominated recording artist and a musical treasure. Her entire life has been committed to the art of song and performance.
The award-winning Ms. Maye appeared 76 times on The Tonight Show Starring Johnny Carson – the record for a singer. Perhaps the simplest Marilyn Maye accolade came after one of her show-stopping appearances on The Tonight Show when turning to his audience of millions, Johnny Carson said, "And that, young singers, is the way it's done."
Marilyn began her professional singing career by winning a 13-week appearance on radio station WIBW, Topeka, Kansas, at age 9. She has been committed her entire life to the art of song and performance. During her eleven-year engagement at the Colony in Kansas City, she was "discovered" by Steve Allen who was the first to present her various times to a national television audience. The Steve Allen performances led her to an RCA recording contract.
Her RCA recordings consist of seven albums and 34 singles, including the first hit recordings of "Cabaret" and "Step to the Rear." Her album with full orchestra, The Lamp is Low, is considered a classic.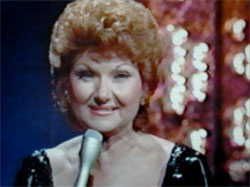 Marilyn during one of her 76 appearances on The Tonight Show starring Johnny Carson.
Her place in American music history was assured when the Arts Council of the Smithsonian Institution selected one of her recordings, "Too Late Now" for the Smithsonian-produced album of the 110 Best American Compositions of the Twentieth Century.
Her many symphony concert appearances around the United States, include the Florida Symphony, The Philly Pops, The Phoenix Symphony, The Kansas City Symphony, The Omaha Symphony, and in June, 2015, The Pasadena Symphony, Michael Feinstein conducting. Her two appearances with the New York Pops at Carnegie Hall for tributes to Stephen Sondheim and Frank Loesser. These two performances received show-stopping applause and rave reviews.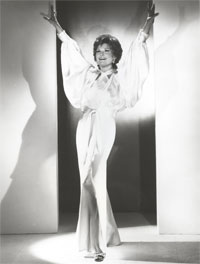 An early publicity photo.
Her more than 100 engagements in the last nine years in New York include; sold-out multiple-nights at the Metropolitan Room, Birdland, five two-week runs at Feinstein's at The Loews Regency Hotel, New York's Town Hall, the 92nd Street Y Theater. She presented Marilyn Maye, "Her Way", A Salute to Sinatra - her fifth appearance at 54 Below, April, 2015 – an 8-day engagement was received by standing-room-only audiences.
In the Wall Street Journal last year, Will Friedwald wrote, "When going to hear Marilyn Maye, you'll find on one side of the room are the Broadway and cabaret people, who tend to like their singing big and theatrical, with a lot of drama and stage presence. On the other side is the jazz crowd, who want everything hip and cool and understated, and will split the scene if anything doesn't swing. Ms. Maye is the only pop-song diva working today who can satisfy both crowds at once".
Cabaret Scenes magazine recently noted, "She's reached the pinnacle of icon status. ... Ms. Maye casts a unique spell on the young." And Opera News raved "No entertainer gives you more in terms of great music, great theater, and great comedy."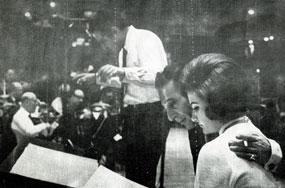 Marilyn conferring with Joe Rene, who produced her first six RCA albums including the acclaimed "The Lamp is Low" album.
Broadway Times Square Chronicles' critic, Steven Sorokoff wrote "If you're in a Marilyn Maye audience you will become an eyewitness to the constant expansion and the proficiency of an experienced artist whose voice has thrilled entertainment connoisseurs for decades. It doesn't get any better than this.
Marilyn returns yearly to many of the venues she plays. She appears in Provincetown, Mass. August, 2015 at the Art House Theater for her 4th consecutive year. New Year's Eve, 2015, Marilyn will again bring in the New Year at her "The Happiest Party in Town" – her 5th consecutive New Years at the Metropolitan Room. In March, 2016 she'll play the Royal Room at the Colony Hotel, West Palm Beach for the 7th time. In the last ten years Marilyn has returned many times to the various prestigious showrooms in New York. Probably the most astounding "return engagement" is a summer resort to which she has returned each year for 59 years.
In the New York Observer, Rex Reed wrote "Her show is not to be missed. ... It's a master class in singing conducted by a polished pro who majored in unforgettable."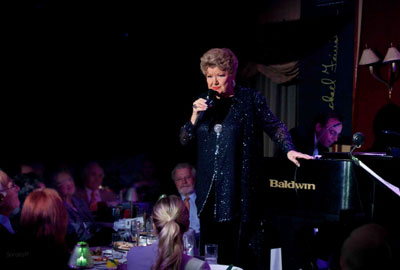 Marilyn doing what she loves best, singing for an appreciative crowd during a recent performance at Michael Feinstein's upscale New York Night Club.