"Calling her a cabaret singer is like calling Pablo Picasso a painter;
it's true all right, but it leaves a lot out!" Philadelphia Inquirer
Biography
In the years since Marilyn Maye first appeared in the spotlight as a tiny pre-teen vocalist in a series of amateur contests in Topeka, Kansas, she has received an endless stream of kudos. The late Johnny Carson called her "Super Singer." Ella Fitzgerald dubbed her "The greatest white female singer in the world." The Houston Chronicle termed her "A National Treasure." And the prestigious Smithsonian Institution chose her recording of "Too Late Now" (from her RCA Lamp Is Low album) for inclusion in its Best Performers of the Best Compositions of the 20th Century permanent collection, along with such other singing greats as Billie Holiday, Frank Sinatra and Judy Garland.
Add 76 appearances on The Tonight Show Starring Johnny Carson, a Grammy nomination in the mid-Sixties as Best New Artist, a bevy of awards reflecting her showmanship, and you have an illustrious singing career that is still going strong after a life-time spent entertaining audiences who are now amazed to discover she still exudes the vocal strength and stamina of a singer half her age.
A life-long Midwesterner, Marilyn was born April 10, 1928, in Wichita, Kansas, the only child of Kenneth and Lyla McLaughlin. The couple moved to Topeka, Kansas, where her father, a pharmacist, bought a drugstore, when Marilyn was still a toddler. However, by the time she was 12 years old, the twosome had divorced and gone their separate ways. Marilyn remained with her mother who, although she was the antithesis of a stage mother, was never-the-less determined her daughter would have a show business career. "Mother, who was a piano player, decided before I was born that she would have a girl, name her after the musical star Marilyn Miller, and that her daughter would be a singer," Marilyn once recalled, adding with a chuckle, "Lucky for her I actually had talent!"
Convinced her daughter's path to stardom lie in the then-thriving business of amateur contests, her mother gave Marilyn singing and dancing lessons and then began entering her in every contest held in Topeka and its surrounding environs. The country was in the midst of The Great Depression, and any extra money Marilyn could win was gratefully accepted. Thus, with Lyla at the piano, and 7-year old Marilyn center stage, the twosome worked the boards together for several years, with Marilyn usually winning the top prize.
One of the prizes was a 13-week appearance on "The B'rer Fox" show, on WIBW, the number one radio station in Topeka. "I was 11 years old and every Saturday I sang a song and did a specialty number at the Jayhawk Theater," she explained, adding "And at the end of every show I sang 'God Bless America.' I think I sang it more than Kate Smith because the show was extended and I sang it for almost two consecutive years!"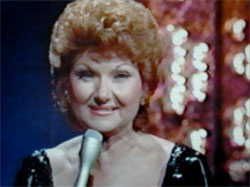 Marilyn during one of her 76 appearances on The Tonight Show starring Johnny Carson.
Several years after her parents divorced, Marilyn and her mother moved to Des Moines, Iowa, to be close to Lyla's family. While in high school, Marilyn continued singing, only this time she was appearing regularly on her own radio show, "Marilyn Entertains," in which she sang write-in requests from servicemen, as well as from listeners. The show lead to several offers to join nationally-known big bands as their girl singer. But Marilyn chose instead to continue with radio and, after her high school graduation, accepted a job as staff vocalist for WHAS radio in Louisville, Kentucky. "It was an invaluable education," she recalled, "because I performed half the show with a full orchestra. So when I walked onstage 20 years later to do my first RCA recording with a live orchestra I felt at ease and fully prepared."
When her Louisville radio contract ended, Marilyn hit the road, working a variety of large and small nightclubs around the Midwest. "I played a lot of clubs in the Chicago area," she recalled, "and I think I must have played every Moose and Elks Club in the state of Illinois." she laughed.
Although it didn't seem so at the time, Marilyn's big break finally arrived in the mid-Fifties when she was booked into The Colony, a supper club in Kansas City, Missouri, for a 3-week gig that turned into an eleven year engagement, a tour of duty she jokingly refers to as "Eleven poverty stricken years." Money aside, they were productive years for Marilyn. She married three times, had a daughter, Kristi. She was ultimately discovered by Steve Allen, who heard her on a Kansas City recorded album. He invited her to appear on his television show. It was then that all those years of paying her musical dues and learning her craft began to mesh into the big-time.
After several appearances on the Allen show, Marilyn was discovered by RCA and signed to a lucrative recording contract which resulted in seven albums and 34 singles, including her hits "Cabaret" and "Step to the Rear," both of which Marilyn recorded prior to the opening of the Broadway shows whence they sprung. "Step to the Rear" was subsequently chosen as the theme song for a Lincoln Mercury commercial that ran for four years with Marilyn appearing throughout the country as the automobile manufacturer's national radio spokeswoman.
While recording her 1966 RCA album, "The Second of Maye," which was recorded Live At The Living Room, Marilyn got her third big break when Ed McMahon caught her act at the then-famous New York nightclub and insisted she had to be on The Tonight Show which was then headquartered in Manhattan. "It was a wonderful break for me," she explained, "because I didn't have to audition. All I had to do was show up and sing." And sing she did. The studio audience was so enthusiastic that Johnny Carson issued her an open invitation to join him whenever she was in New York or, after the show moved to the West Coast, in Los Angeles. And Skitch Henderson, who was then the NBC Music Director for The Tonight Show, authored the record notes for her "Second of Maye" album in which he cited "her control, her diction, her warmth and, above all, her timing and straightforward lyrical delivery."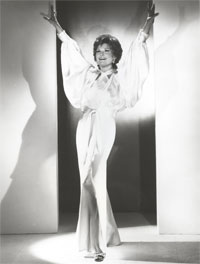 An early publicity photo.
Thus the Sixties, Seventies and early Eighties were hectic, heady and exciting years for the Kansas City-based songstress. Reluctant to leave the Midwest and relocate to either coast, a decision she would later admit was "probably a mistake," Marilyn spent hours winging back and forth from Kansas City to a prestigious array of clubs, appearing in New York at the Copacabana, The Living Room, and The Rainbow Grill. In Chicago, she headlined at both The Drake and The Palmer House hotels. In Hollywood, she played the Century Plaza's Westside Room and The Hollywood Roosevelt's Cinegrill; and in Las Vegas she appeared at the Riviera, the MGM Grand and The Sands hotels.
As the nightclub scene gradually disappeared in the Seventies, Marilyn made the transition to Theatre, starring in productions of "Can Can," Stephen Sondheim's "Follies" and Jerry Herman's blockbuster musicals, "Mame" and "Hello Dolly." She then recorded the CD "Marilyn Maye Sings All of Hello Dolly," which included liner notes by Herman in which he pointed out her "great versatility and vocal range" as well as her "extraordinary combination of singing and acting talent."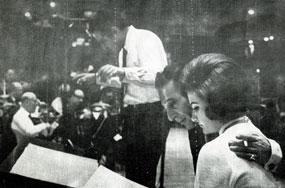 Marilyn conferring with Joe Rene, who produced her first six RCA albums including the acclaimed "The Lamp is Low" album.
Throughout her career, Marilyn has worked with the best talents in the music business, such as the late Peter Matz, who both arranged and conducted her Smithsonian-enshrined album, "The Lamp is Low," the esteemed arranger, Don Costa, as well as Manny Albam and Don Sebesky, two other highly-regarded arrangers. She also appeared with Johnny Carson in a number of large venue concerts, sang with the Phoenix Symphony under the baton of Doc Severinsen and, more recently, was the featured singer with both the Philadelphia Pops Orchestra and the Florida Symphony Orchestra at the behest of Peter Nero, who was the pops conductor.
"Marilyn Maye sets the standard for the way any jazz, pop, or big band singer would like to sound," Nero said when introducing Marilyn to the Philadelphia audience. And no one who has ever heard this songbird sing, whether with an orchestra, a trio or just a lone piano, would disagree. She has a command of the stage that can only come from having spent a lifetime of performing live, without the electronically-enhanced recording studio produced gibberish that has become the unfortunate musical standard of the last decade.
In 2006, in an ironic twist of fate, Marilyn was once again "discovered" when she appeared as a special guest of The Mabel Mercer Society at New York's renowned Rose Hall at Lincoln Center. She followed this with, not only a second Mercer concert and a performance at the annual Cabaret Convention at Lincoln Center, but a series of glowingly-reviewed performances at New York's Metropolitan Room. As a result of this resurgence in popularity, Marilyn has never been busier. In the intervening years she has received a bevy of awards for her performances and has appeared in the nation's top nightclubs from California to New York, always delivering her best to her audiences from whom she more often than not receives a standing ovation and invariably earning high praise from the reviewers.
Thus, as the musical magic of Marilyn Maye marches on, so do the glowing reviews. This was the case when Marilyn appeared for a week of appearances at The Metropolitan Room in October, 2010, and once again wowed The Big Apple's critics with her new show.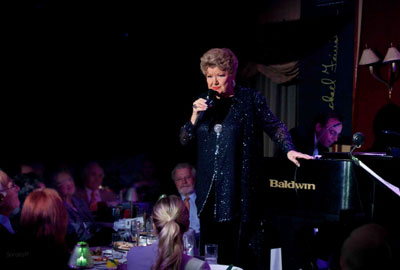 Marilyn doing what she loves best, singing for an appreciative crowd during a recent performance at Michael Feinstein's upscale New York Night Club.

"Exclamations of adoration regularly erupted at Friday's opening-night performance of Marilyn Maye's new show, 'Her Own Kind of Broadway,' at the packed Metropolitan Room. Ms. Maye, who personifies a hardy, upbeat show-business trouper, swung Broadway standards in a dark, honeyed voice untouched by the years. Again and again, Ms. Maye embraced show tunes that beat the drums for savoring the moment, wrapping her rich, robust voice around perky, cheerleading lyrics with an earthy conviction that revitalized their feel-good truisms."
(Stephen Holden, New York Times, October 12, 2010)
"There's only one mischievous, miraculous, marvelous Marilyn and its Maye!It's always about the lyric, the pure conversational approach that inveigles the listeners, welcoming them to enter and partake at her party. She brings a sophistication and resonance to everything she touches that appeals to jazz buffs, hard core Broadway or Cabaret devotees alike."
(Sandi Durell, New York Theater Examiner, October 10 2010)
Of course, having spent most of her life in the glare of the single spotlight, Marilyn takes this all in her stride. "I am the overnight success who's been working all of my life," she jokingly told a reporter not long ago. "Seriously," she'd added, "I wish all of this had come 20 years ago; but my timing has always been off. When I started recording it was in the Sixties and rock n roll was the big thing. If I'd been recording in the Forties things might have been different…." She hesitated only a moment, then laughed. "Hmm," she said, "if I'd been old enough to record then I might have been dead by now and I'd have missed all of this!"
And so would all of the audiences who, from coast-to-coast and all points in between, have been wowed by Marilyn's unforgettable performances of today and yesterday. As Will Friedwald summed up in his October 15, 2010, Wall Street Journal review of Marilyn's performance at The Metropolitan Room:
"Marilyn Maye is pretty much every singer you ever wanted to hear: She has the rhythm and musicianship of a great jazz singer, the projection and personality of a heavyweight Broadway diva, and creates the intimate bond with her audiences that we demand from a cabaret artist. Her current show at the Metro stresses show tunes and, at more than 90 minutes, still didn't seem nearly long enough."